By Beach T. Weston
Just Beachie Column
(3 to 5 min read)
Have you ever sized up a stranger within seconds based on their clothes, hair, teeth, shoes, height, weight? Anything that made them different from what society refers to as being "normal". Or were you the one that was being scrutinized? Judged?
As I pursue my lifelong quest of trying to be more conscious and kind, I find there are moments when I fall back into the judgmental thinking (for others and myself). But in my defense (or so I tell myself) it can be a real challenge to constantly be thinking only positive thoughts. The little Devil and the little Angel that sit on my shoulders often duke it out.
One such situation happened while visiting one of my favorite hotels—The Royal Hawaiian Hotel—also known as The Pink Palace. The honored pink hotel is nestled amongst towering resorts—a stunning oasis on Honolulu's, Waikiki Beach.
Allow me to give you a sense of The Pink Palace's charm: She opened her doors on February 1, 1927—it was a celebration unmatched by any of Hollywood's fancy soirées. The rich and the famous boarded a Matson steamship (the only transportation at the time to Honolulu) in anticipation of being one of the first guests to stay at The Pink Palace. And yes, she is the pinkest hotel you will probably ever see—her stunning decor was inspired by the "Latin Lover" of the 1920's silent screen, Rudolph Valentino. Every detail of the Spanish-Moorish style was handcrafted with love not only for Valentino, but the color pink!
I was pooped after a day of enjoying Honolulu's fast, furious and fun shopping. (I exaggerate not—Honolulu's energy is like a kid after eating a gallon of C&H sugar). Seriously, it's crazy-fun! But I can only take the whirlwind of activity for so long before I need relaxation…tranquility…pink!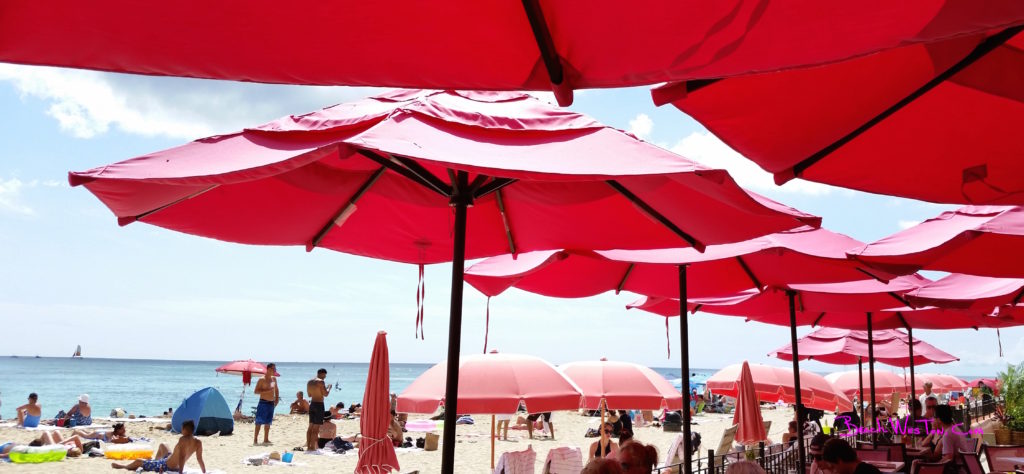 I strolled from Honolulu's bustle to the enchanted grounds of The Pink Palace and was immediately drawn to the turquoise shoreline of the infamous Waikiki Beach—where the Mai Tai Bar, shaded by a colony of pink umbrellas, beckoned me to enjoy a cool drink. As I played happy tourist and sipped on my decadent punch a woman parked herself on the stool to the left of me. She was dressed in a wrinkled, short sleeved Hawaiian shirt—frumbled tan trousers—and black, sturdy laced shoes. Her weathered face was framed by stringy, salt and pepper hair in need of a good wash and cut.
The naughty little Devil piped up, I thought she is quite the character! Thank goodness it was only a few minutes before the little Angel retrieved my attention and reminded me that there was more to this woman than her exterior. And just as I began to think about the woman's goodness, the bartender gaily greeted her not only as a valued customer, but a longtime friend. It was then she began to talk about her business in Hawaii and on the mainland. Turned out she was a lawyer, owned property in Hawaii and a successful hotel in California—but more importantly, she was a pleasant person. A thoughtful person. An authentic person. I quickly scolded myself for momentarily falling prey to society's stigma of what we "should" look like or "should" act like. I have been on the receiving end of merciless judgement, which made my self-reflection even more relevant.
I will forever remember the woman at the Mai Tai Bar—the experience reminded me that we are not always what we appear to be—and who we are today, may not be who we will be in the future.
The person who is a fat cat or a penniless bum today may not be that person tomorrow. The person today who is a plain Jane or gorgeous and chic may not be that person tomorrow. Life has a way of sometimes equalizing our status: It only takes one storm to demolish a neighborhood. One bad experience to bring someone to their knees. And one kind thought to turn judgement into non-judgement. When we practice non-judgement, we open the door for joy and gratitude.
In peace, love, and self acceptance for ourselves and others,
💗Beach
© Beach T. Weston 2017